We Keep On Moving
Mobility brings us people closer together. It forms the basis for our daily lives. It gives us freedom. A world without advancement stands still.
We require a fresh start for our mobility, which in the future must be even safer, more resource-efficient and more commonly available than the mobility we know today.
We want to develop safer, more contemporary forms of mobility with longer life-cycles, which must be made available to everyone. From autonomous driving to unmanned aviation, to the use of new energy sources.
We connect research with industry, with special consideration for the economy, ecology and society. That way, we can turn newer and better forms of mobility and the necessary infrastructure into reality.
Clean technologies are our Bavarian core competencies: we are developing synthetic fuels to replace kerosene, as a means of making air travel more environmentally friendly. Moreover, research into battery technologies for climate-friendly and more efficient electromobility is being conducted and the extraction of hydrogen forms the energy source of the future.
Success Stories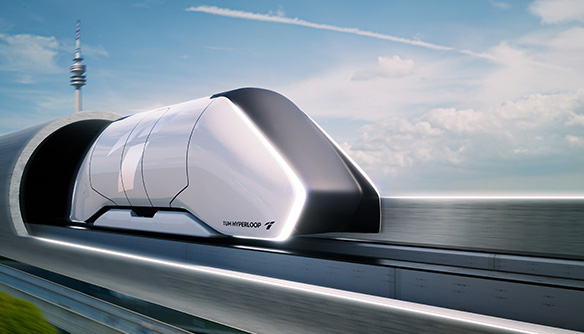 Travelling in New Dimensions
Technical University of Munich (TUM):
The Hyperloop promises to be as fast as it sounds! The TUM Hyperloop Programme at the Technical University of Munich (TUM) is currently in the process of developing this new form of mobility at the Aerospace Campus located in Ottobrunn in a bid to turn this vision into reality.
TUM students have already proven in numerous international competitions that they are capable of creating incredibly fast prototypes of capsules to transport passengers. The student initiative, founded in 2015, won all four SpaceX Hyperloop Pod competitions up to 2019. Now, to further test the viability of Hyperloop technology in the future, Europe's first passenger-sized Hyperloop prototype will be built by 2023. The demonstration consists of a 24-meter-long test tube with a matching full-scale capsule. Construction has commenced on site in Ottobrunn.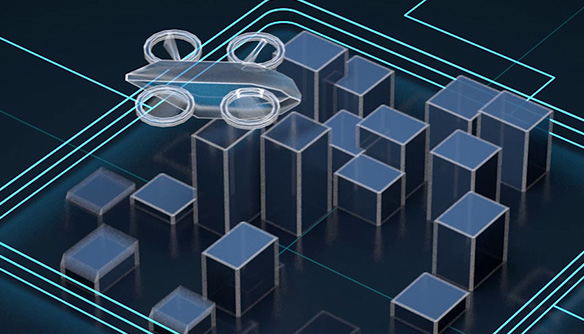 Urban Air Autopilot
Technische Hochschule Ingolstadt:
Besides pilotless transportation in the third dimension, various applications are possible through unmanned aerial systems, both individually or as a swarm. These include searching for missing people, rapidly assessing damage after accidents or natural disasters, transporting urgently needed items such as medicines to hard-to-reach places, environmental protection through the collection of precise data on animal and plant population, or even traffic optimisation through accurate real-time traffic monitoring. Artificial intelligence algorithms play a crucial role in operating these unmanned aerial systems in a safe manner, in coordinating swarms of drones, in interacting with humans and in integrating drones into the airspace along with traditional aerial vehicles. In that sense, algorithms are used for sensor signal processing to perceive airspace and obstacles, as well as for the autonomous planning of flight trajectories and the making of safe and efficient flight control of individual flight systems and drone swarms.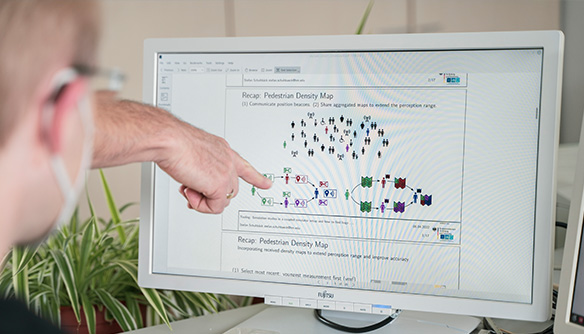 The Best By A Mile
University of Applied Sciences Munich:
While transferring trains on the way to soccer matches at Allianz Arena, things can get frantic at Müncher Freiheit station during an emergency. Members of a research team at the University of Applied Sciences Munich have dedicated themselves to finding optimal routes to the big event using 5G technologies and people flow analysis. An app will guide fans to their destination quickly and safely. Mobile communication is ubiquitous in road traffic: pedestrians use their smartphones to navigate to their destinations and train passengers check departure times via apps, to name a few. However, when dealing with large crowds, such as on public transportation or in emergency situations in crowded places, both the mobile network and traffic routes can become overloaded. To avoid imminent danger, the research project, "More efficient infrastructures through robust networking" at the University of Applied Sciences Munich is developing methods to counteract the overloading of network and traffic. This is done by accurately determining the local people density in the surrounding area and suggesting possible detours via the application.
State-Of-The-Art Research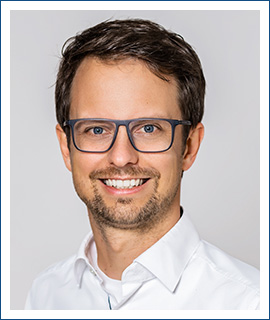 Prof. Dr. Alexander Baur
Innovative Mobility-concepts & Business Models for Artificial Intelligence, Ingolstadt University of Applied Sciences.
Alexander Baur researches innovative Mobility-concepts that are enabled by the application of AI methods. The goal is to make a positive ecological, economic and societal contribution. His professorship focuses on researching sustainable business models in the field of AI-supported mobility and their potential application by start-ups or established companies.
(Photo: Baur/THI)