What Will Working Look Like in the Future?
The way we work has changed dramatically in recent years. Crises have clearly shown how important technological development is for us as a society.
The development of new technologies has repeatedly led to industrial revolutions and changed the way we work and the environment we work in.
With developments in the key technologies of the future such as AI, quantum technology, CleanTech or aerospace technology, we are currently experiencing further advancement that will have far-reaching consequences for us all.
Past experience shows that new technologies can also lead to jobs being replaced by machines. But it is precisely this that will create new occupational fields and professions and thus create new opportunities.
What will prove to be decisive is that Bavaria is positioning itself as a high-tech hub amongst global competition and in doing so secures the jobs of the future for generations to come.
SUCCESS STORIES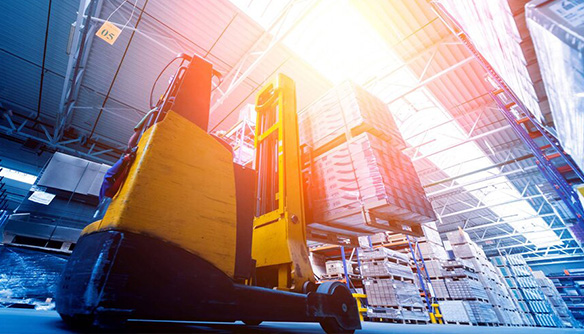 Forklifts That Cooperate
Aschaffenburg University of Applied Sciences
The automation of intralogistic processes plays a key role in sustainably securing the competitiveness of companies in a market characterized by globalization and increased competition.
The aim of the project is to develop new methods for the intelligent networking and automation of industrial trucks. A networked fleet of, for example, forklifts, would achieve a significant increase in the flow of goods and materials through cooperative behavior in autonomous driving, order planning and order processing. The comprehensive evaluation of the database also contributes significantly to optimizing the profitability and efficiency of intralogistics processes. The latest methods of artificial intelligence and machine learning will be used for this purpose.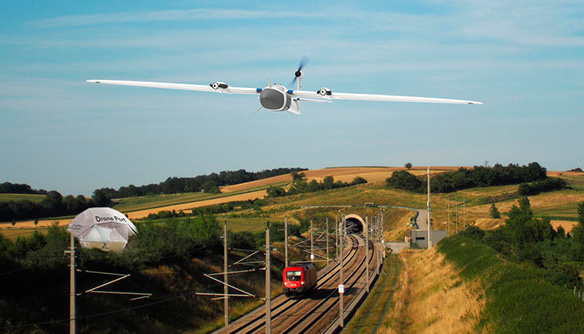 Checking Our Railroads Using 'FreeRail'
The Technical University Ingolstadt of Applied Sciences:
For the transition of our mobility systems, we need well-connected and safe railroads. Checking and maintaining the vegetation along Deutsche Bahn's 33.440 km long rail network is a time-consuming and challenging task. In order to comply with road safety obligations, vegetation along the entire rail network must be inspected, documented and evaluated by skilled personnel at least once a year.
The "FreeRail" project is developing the scientific and technical foundations of a future, with a fully automated, drone-based system for digitized vegetation control and the registration of damage after severe weather events along Deutsche Bahn's rail network. The aim is, on the one hand, to design and investigate the technologies and operating processes required for this. On the other hand, a functional demonstrator is to be developed and tested on a selected section of track.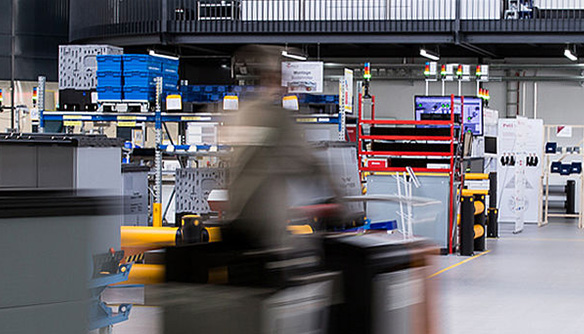 Photo: University of Applied Sciences Landshut
AI in Production Logistics
Landshut University of Applied Sciences:
The aim of the KIProLog project is to optimize internal logistics with regard to material flow and the provision of information for the scheduling of logistical systems using artificial intelligence methods. Using real-time data, intelligent logistics systems are trained to identify bottlenecks in the logistics chain and preventively eliminate them. In addition, historical data is analyzed to generate future forecasts. Self-learning algorithms are then used to automatically optimize control parameters in order to significantly reduce the manual scheduling workload. With the help of digital assistance systems, users will also receive suggestions on how to further improve their production and logistics systems.
STATE-OF-THE-ART RESEARCH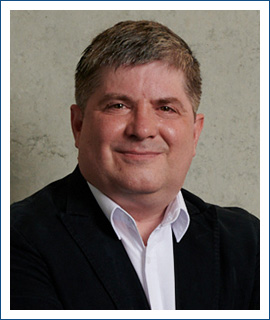 Prof. Dr. Jochen L. Leidner
Artificial Intelligence in the Insurance Sector
Coburg University of Applied Sciences
In 2009, Jochen Leidner first pursued the research question of how computers can support humans in obtaining and interpreting risk profiles from large collections of news. His models are used by major international banks for background checks (KYC Compliance), among other purposes.
All human actions involve risk, from driving to work to geopolitical risk. Research to improve risk analysis is of interest to various decision makers – policymakers, insurers, corporations or investors. Leidner is particularly proud to have seen his ideas come to fruition, from basic research to product delivery.
Professor Leidner's other research fields include computational linguistics, machine learning, geo-information systems, search engines and information systems.
Profile at Coburg University of Applied Sciences
(Photo: Coburg University of Applied Sciences)