Optimal Care.
We all wish to lead an independent and self-determined life into old age.
In the future, innovative solutions will ensure that both we and our relatives can remain at home longer in old age and that we are optimally cared for in case of an emergency.
Intelligent healthcare robots can provide crucial support for elderly people, relatives and caregivers, even when our own bodies reach their limits. In the near future, new mobility concepts such as autonomous driving will make it possible to travel even further distances despite physical impairments. Furthermore, advances in telehealth and diagnostics will further improve medical care in rural areas as well.
Success Stories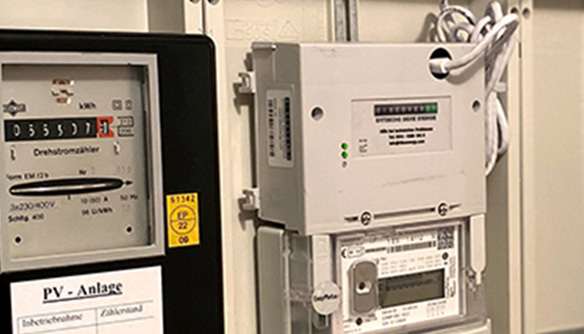 Photo: Deggendorf Institute of Technology
Data also helps in Emergency
Deggendorf Institute of Technology:
In the "BLADL" research project at the Deggendorf Institute of Technology, academics are investigating how existing data sources can be used to help seniors live in their own homes as long as possible.
To this end, data from smart meters across 20 test households was collected and analyzed. Artificial intelligence is used to identify the 'digital footprint' of individual electricity and water consumers. In this way, an activity profile can be obtained. If a resident's activity deviates too much from their typical behavior, this may indicate an inactivity and thus an emergency situation.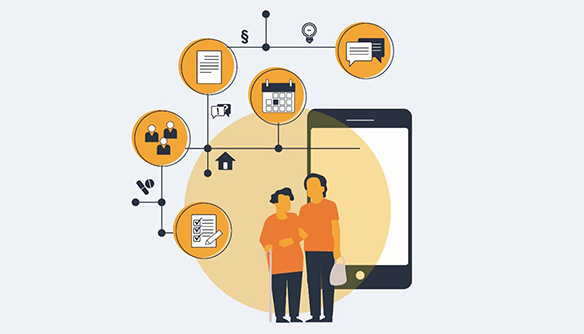 Image: BZPD, Kempten University of Applied Sciences
Research Project DIVA – All in one App
Kempten University of Applied Sciences:
The research project "Use of a digital care application for informal caregivers and its effects on everyday care" (DiVa) deals with the question of how the possible use of a digital care solution is perceived by caregiving relatives and their personal support network during everyday care.
Although caregiving households often differ in terms of their needs and situations, it is apparent that many caregivers are confronted with very similar challenges: a lack of clarity on how to obtain care-related services and consultations, along with a high amount of organisational effort and time to be able to coordinate care properly. To address these challenges, various digital services have taken it upon themselves to provide solutions for these needs and to find innovative solutions to support family caregivers in overcoming these challenges.
For this project, the Bavarian Research Center for Digital Health and Social Care (BYPD) at the Kempten University of Applied Sciences is researching a digital solution that is ready to hit the market. The application provides various information on all aspects of home care and offers functions for organizing everyday care, either alone or as a group. As part of the qualitative research project DiVa, the digital solution will be used to investigate which functions of the app are used in real life care settings, who can be digitally supported in the organization of everyday care and in which manner, and to what extent the provision of information and communication via a care app can contribute to relieving the caregiving burden. As a test, the app will be used by about 15 informal caregivers over a period of about 5 months. At the start, the care is simply recorded without a specific digital care solution in mind. Later in the process, the respondents will be asked to reflect on the different aspects of everyday caregiving that have changed as a result of using the app.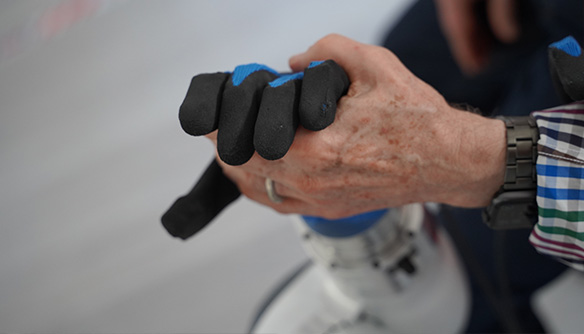 GARMI, the Humanoid Robotic Assistant
The Technical University of Munich (TUM)
The Munich Institute of Robotics and Machine Intelligence (MIRMI) is researching the future of health as part of the "Geriatronics" initiative. The project results from demographic change in Germany and pursues the goal of meeting the challenges of later life through the use of intelligent robotics which enable older people to live independent lives in their own homes.
To accomplish this, the Research Center for Geriatronics in Garmisch-Partenkirchen will be further expanded over the next few years. The research focus of this center is, among other things, the further development of the autonomous service humanoid GARMI, specifically the development of telehealth services, fine motor skills and a multifunctional robot head. Through an integrated experience center and diverse field tests within pilot homes, the robotic systems developed at the Garmisch-Partenkirchen site will benefit local seniors directly at an early stage through collaborations with local retirement and nursing home operators.
State-of-the-Art Research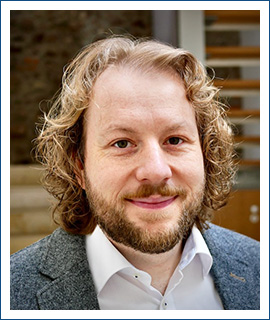 Prof. Dr. Florian Wahl
Sensor-based AI systems in Healthcare
Deggendorf Institute of Technology
Florian Wahl has been a Hightech Agenda professor for sensor-based AI systems in healthcare at the Deggendorf Institute of Technology (THD) since October 2021. Since 2018, Professor Wahl has been conducting research at THD's Technology Campus Grafenau, where he leads the research group "Artificial Intelligence for Context and Activity Recognition" (AI4CARE).
His applied research in the areas of sensor technology and artificial intelligence aims to develop supporting solutions for medical care. A critical situation is emerging in this field due to changing demographics as well as the shortage of skilled workers and urgently requires creative technical solutions.