How Much Energy Does a Human Need?
Energy forms the basis of our modern society. How we want to generate energy in the future, how much of it we consume and how we can guarantee stability in the provision of energy, are the important questions of our time.
We must be as efficient as possible with our natural resources in doing so. We continue to transition our energy sources on a massive scale and are constantly looking for new ways of generating energy.
To give an example, artificial intelligence is an important tool in integrating renewable energy sources, power plants and expanding our current energy infrastructure. To be able to effectively shape the energy transition, it is important to be able to recognize complex interdependencies and learn how to manage them consciously.
Success Stories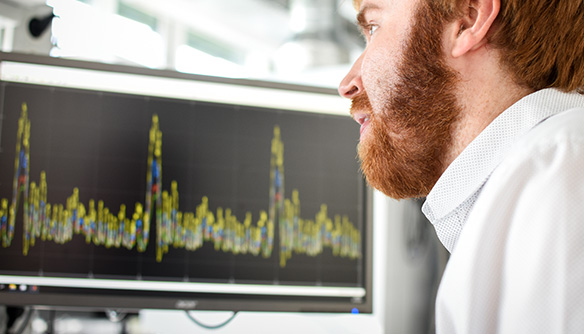 Endlessly High Performance
University of Bayreuth:
The Bavarian Centre for Battery Technology (BayBatt) combines battery-specific expertise in physics and chemistry, materials science and engineering, as well as information technology and economics, acting as a supra-regional centre of excellence in Bayreuth.
The main goal is to advance interdisciplinary research and the development of battery storage systems at the interface of materials science, electrochemistry, engineering, information technology and economics, along with university teaching in the field of battery storage systems.
The research focuses on high-performance materials and interdisciplinary phenomena, such as transport processes and intelligent batteries. The research covers all aspects of battery research, from atom structures via particles to cell components, from battery modules to superordinate energy system.
Possible future applications are found in the field of electromobility, power tools and healthcare. BayBatt aims to apply strides made in academia to the real world, through practical applications of the developed technologies.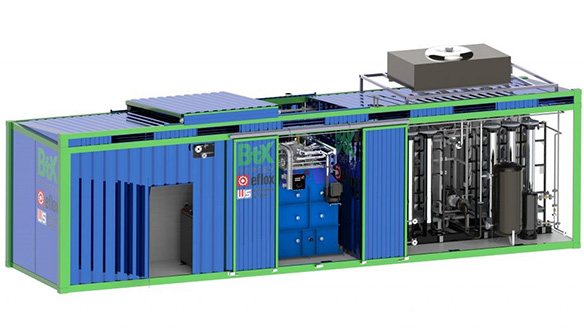 Photo: Hof University of Applied Sciences
Hydrogen from Ammonia
Hof University of Applied Sciences:
Prof. Dr.-Ing. Tobias Plessing and Dr.-Ing. Andy Gradel from the Hof University of Applied Sciences have founded a company that can generate sustainable energy and heat from biomass and are now closing another knowledge gap in the Bavarian research on hydrogen,  by researching "Alternative Generation Processes for the Application of Electrolysis Technologies." The focal point of the research is the splitting of ammonia, an important technology for hydrogen transport and storage.
This will prove crucial for future supply security and resilience. The Institute for Water and Energy Management at Hof University of Applied Sciences will look at gas purification techniques and develop processes and devices to make ammonia splitting feasible on an industrial scale.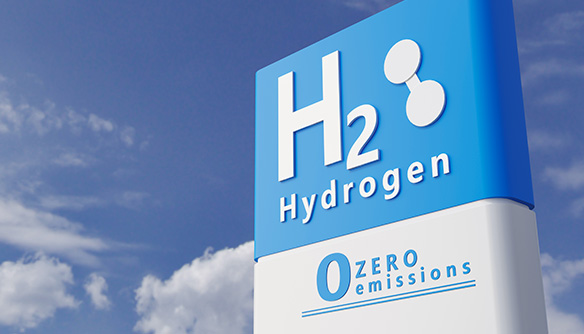 Hydrogen in a Box
The Munich University of Applied Sciences (HM):
Hydrogen is considered a promising energy carrier for climate-neutral, sustainable mobility in the future. Serving as a fuel for fuel cell vehicles, hydrogen provides the electric energy required for propulsion and can be converted into water in a CO2-neutral manner. For fuel cell vehicles to become competitive with today's battery-powered electric vehicles, manufacturing costs must fall, among other things. In the BRYSON research project, BMW, the Munich University of Applied Sciences, Leichtbau Zentrum Sachsen GmbH, the TU Dresden and the WELA Handelsgesellschafft mbH have joined forces to investigate possible manners to achieve this purpose.
The aim of the project is to develop novel hydrogen pressure storage systems that allow easy integration into future universal vehicle architectures. To this end, the conventional, large diameter, cylindrical pressure vessel geometry must be deviated from, and new concepts for installation spaces must be investigated. In addition, effective fire protection measures will be developed.
State-of-the-Art Research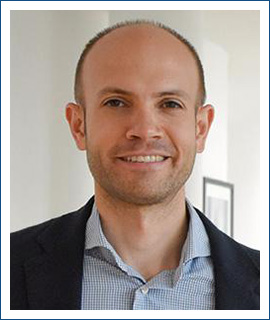 Prof. Dr. Matteo Bianchini
Inorganic Active Materials for Electrochemical Energy Storage Devices
University of Bayreuth
Prof. Dr. Matteo Bianchini's research goal is to improve the current generation of Li-ion batteries and to develop next generation technologies, such as post-Li-ion or solid state batteries, by designing and synthesizing novel electrode materials. The scientist is looking forward to joining the University of Bayreuth and the Bavarian Center for Battery Technology (BayBatt), a remarkable interdisciplinary center for developing the battery technologies of the future, both in research and education.
(Photo: UBT/Rennecke)